Dedicated elf
Administrator
Joined

Jun 20, 2009
Messages

1,442
Location
Hi All,
Firstly Bulk Buy Rules are here for you to read.
https://auschristmaslighting.com/threads/202/
The initial discussions around the T-Shirts can be found here
https://auschristmaslighting.com/threads/1933/
I'm keeping this simple.
T-Shirts will be available in this order as Black only, plan is to order based on this T-shirt
Yes this is a Mens Shirt, very happy to do a Female shirt as well if there is demand for one.
Printing will be on the back only based on this design.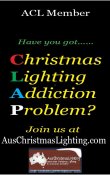 There will be room under the ACL Member writing for people to get there name embroidered on if the wish.
The front being left blank will allow people to add a EL Panel as discussed in the thread above if the want to, see
https://auschristmaslighting.com/threads/1933/#msg16340
Now we just need Bevo to kick off a buy on the panels
hint hint
Sizes:
S - M - L - XL - 2XL - 3XL - 4XL -5XL
Price:
Price will be $25 each with any and all profits from each shirt directly put back to forum support. To this end all payments will be to (removed) paypal account.
Shipping:
Shipping will be at Australia Post parcel costs only and will be advised at the time of posting.
So down to getting numbers.
Please indicate Size x Quantity
Cheers
Phil
Please indicate