Joined

Nov 30, 2020
Messages

106
Hi All,
Strange issue I've run into with a polyline in my project.
Pretty much have created an outline of my front entrance to the house as follows (The polyline is the upside down U whic is causing the issue):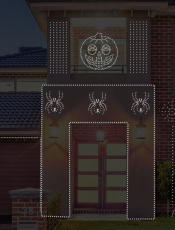 There's a submodel underneath this for each line in the shape.
When I play a sequence in xlights for a particular project I've set it up so the verticals in the model are meant to act like an equaliser as follows:
View: https://www.youtube.com/watch?v=9uMEFHcbgaw
But when I load the sequence into FPP and try to run it on the real props it does the following:
View: https://www.youtube.com/watch?v=KrvsOcPuYnI
A few things, the model for the polyline has been setup to run from the top left corner as the starting point then runs down and anti clockwise around the whole shape.
I've done the same thing on the real prop.
Any help would be appreciate. the rest of the models in this sequence work just fine and I'm happy with my first full attemp at running a halloween show this year.