Joined

Jul 18, 2018
Messages

5
First of all, I am not that sure whether this is the correct section to post this, so please forgive me for using this one.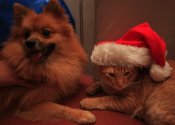 This is my Pomeranian's photo of my boyfriend's Tabby. Pumpkin looks so annoyed sharing a spot with my Copper. They never really get along so well because this cat is too snooty. She hates it when someone invades her personal space. She almost tried to kill Snow after seeing him steal some treats. My boyfriend bought two
automatic feeders
because Pumpkin won't share a meal with her fellow cats.