Hi there, I am assembling my layout now and just want to confirm my understanding of power injection. I am going to run 5V, so I will need to power inject every 50 pixels, however, given I won't run at 100% it will be a few more than that, but that's irrelevant for these questions as my questions really relate to the approach.
I have a diagram below of a few example props and how they're hooked up from my controller, with power injection from an F8 distro board.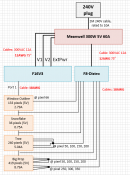 Can anyone confirm the following:
1. Between props, I will power inject even if the props don't have a full 50 pixel spacing between injections. This won't matter as long as there are some pixels [resistance] between power injection points.
2. My window outline will require an injection mid prop, so I will run an injection from an F8 somewhere in the middle of the prop.
3. My tree prop will draw up to 5.04A and will require 4 injections (on top of the injection at the start and end of the prop - which would reduce the number of Amps needed via power injection). I would run a single power injection cable from my F8, and inject multiple times from the same wire into the prop. I understand this is OK because the current draw would be less than the fuses & wire (5A).
4. My 'Big Prop' would draw 8.79A, so I would need at least two runs from an F8 distro to stay below the amperage threshold on each fuse & wire (5A). So using the same approach as the tree prop above, I would inject mid prop, however, in this case, there would be two runs from the F8.
I know there are other considerations with regards to cable length and voltage drop etc which need to be considered, and the Spiker Lights calculators have helped with that, however, I really just want to confirm my thinking around 3 and 4 above.
I've been using the Miller Christmas Lights 'Controller and Power Distribution 2.0 (TEMPLATE)' which has proven very helpful with calculating amperage by power supply, however when I took a look at my proposed overall display, I would need 135 Power Injection points, which is a lot of F8 distros and cable if I can't consolidate leads from the Power Supply to the prop.
Cheers
Dan