Joined

Oct 22, 2010
Messages

280
Location
I know a lot of us collect donations for various charities around the country but there is no documentation on the forums. I thought I would kick it off and show you mine and hopefully it will give others an idea of what you can achieve.
Any other setups you have post them up
I found a safe at Bunnings for $25 which was red and had a coin slot in the top already. The lock mechanism is very sturdy and has 3 pins on it. I attached it to a piece of 1 1/2" schedule 80 pipe (that means its about 4mm thick walls) that has a base plate welded to it. I bolted it to the base plate using M8 x 30mm Security bolts fitted with nyloc nuts.
A bracket will be bolted to my letter box which is brick and allow the pipe to slide into it and have a pin inserted through and a padlock on the other side (think of a tow hitch receiver and you will get the idea)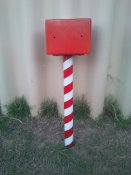 Top down view so you can see the key hole and the coin slot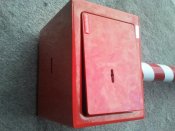 Inside the safe you can see the nyloc nuts which will only allow the security bolts to be undone with the correct security bit and a spanner. Also you can see the 3 pins for the locking mechanism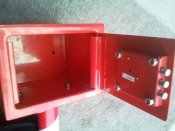 This pic shows the top of the security bolts going through the base plate into the safe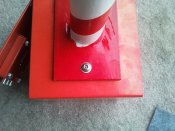 The bracket that will be used to attach to the letter box (not complete yet)