Before I found this forum I designed and made a light for my Christmas display. I'm sharing my experiences here in case it's of interest to someone.
EL Wire
I used a product called EL wire (a.k.a Electroluminescent wire). You can read the
wikipedia page
to find out all about it but essentially it's a phosphor coated wire which when high frequency, low current electricity is passed through it it glows. The wire radiates light in 360 degrees and is flexible making it a good candidate for clothing / wire frames etc. By wrapping the wire a in coloured sleeve, you get different coloured lit wire to play with.
In bulk it retails for around $3.50-$4 a metre, otherwise it's about $14.50 for a 3m length and a good variety of colours are available.
Stats I've pulled from the web
Power usage : approx 200mw/meter (dependent on the frequency you drive the wire at - higher frequencies = more light and power, but burns the wire out quicker)
Current usage
: .002 Amps per meter
Brightness
: The typical brightness is 70 Nit (800 Hz, 100 V)
Lifespan
: Typically 1000 hours+ of continual use, but depends on the power you drive it at
In case anyone else makes an EL-wire design in future, I used the copper tape method of connection. In future I'd solder them to a conductive ferrule instead as the tape kept coming unstuck (I suspect I had cheap adhesive copper tape).
The build
Through ebay I bought several lengths in various colours (5mm) and had grand plans to make up multiple custom designs. I suspect that it was that I bought a cheap rip-off product rather than the name brand that made it such a pain to work with (combined with less than ideal wire strippers), but regardless, the stupid number of hours I spent working on something that shouldn't have taken anywhere near as long deterred me from making any ones past my first. Particularly, the EL-wire features two "angel hair" wires that look about half human hair thickness that need to be soldered at every connection, and I became an expert in usually breaking them during wire stripping (my biggest problem with it), or when I managed not to, overheating them and melting/breaking them off. My soldering skills are rudimentary and I was trying to use lead-free solder which didn't help, but the product was painful to use. Plenty of other people on the web use it though and don't whinge about it like I just did, so it probably pays to buy the brand name stuff.
So anyway, in short I found some coro at Bunnings and decided to use it for its ease of use to work with over wood. I designed a star by dividing a circle, drilled holes through the coro and poked the wire through to make the design. Small cable ties were placed regularly to hold the design in place as hot glue I was using kept coming unstuck (though from the coro, the wire or both I cant remember). To avoid using too much EL wire I soldered in short joining wires on the back between the lit pieces making the design. In hindsight (due to the pain of working with the stuff) I should've kept the joins only to where I wanted to change colour rather than trying to save wire, but you live and learn.
So here's the photos post construction. The lit version doesn't show up the real colour difference between the white and blue segments so I've included a pic of my house from a previous year where the colours can be better seen.
Front unlit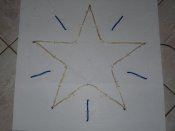 Back unlit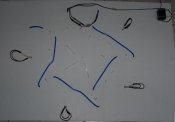 Turned on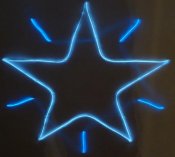 In place on the house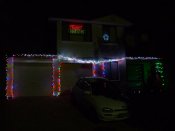 I hope this is useful to someone at some point.