G'Day All,
New to the world of Computer Christmas Lighting and to the AusChristmasLighting forums!!!
I have a Pixlite 16 MKII and have it working fine with the LED strips and xLights. Now working on adding some DMX contolled spots.
So far I've not had any success and I hope I've just overlooked something simple. TO control the DMX spot I'm running a CAT 5 cable to DMX 3 pin plug wired using ESTA wiring.
So far I've been
unable
to get xLights to control the spot via the PixLite (as mentioned above LED strips all working fine).
I am using XLights 2020.4 and the latest V2.0.28 firmware on the Pixlite. Also at the moment I'm running 5v LED strips as a test but switching out to 12V strips.
Here are the relevant config items
Advatek Control Setup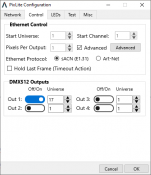 XLights Controller Setup

Xlights Flood Layout Config
Xlights Layout Setup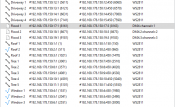 And pointers/thoughts/corrections would be much appreciated.
Cheers
Dennis