When i ordered my lights from China (mysolarled.com) last year, i asked them about led down lights. Kelly was kind enough to throw in a couple of 2 watt 12 LEDs down lights.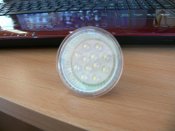 Now i had missed out on making up led flood lights so i thought i might be able to use these.
I had purchased a dancing santa and had him standing in my porch, so i removed the 240 v downlight and replaced it with the 12 v dc down light (connected to 12v dc of course). I than added a second light to light up the front of him.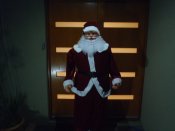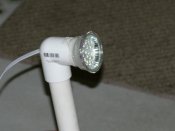 And here is a picture inside my garage, now its hard to take a pictue of light like this especially with a manual exposure so it may be a bit over exposed but you'll get the picture.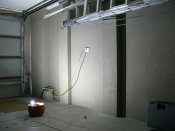 And could easily make up mounts for 2 or 3 lights if required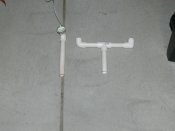 But they seam to work quite effectively. Your probably wondering how much?
Now i have got some pricing on these cup lights (thats what the chinese call them)
Red, Yellow, Blue, 1 watt 20 led 50mm Dia $1.42
White & Green 1 watt 20 led 50mm Dia $1.57
Red, Yellow, Blue, 3 watt 60 led 63mm Dia $4.63
White & Green 3 watt 60 led 63mm Dia $4.81
But as always freight is going to be the biggest killer.
I will be ordering some of these in near future and when i get them will do some moe testing.
Thanks
Dave