New to Pixels last year, I wanted to have a smallish Mega Tree about 3 metres. I searched and searched and could not find much about how to make a Mega tree without having tools, handyman skills and a place to make it all. I have none of these.
I started off researching what mega tree kits you could buy online.
I purchased a HolidayCoro QT2 - 5 to 32 PixNode Strip Topper (8.5" Overall Diameter / 1-3/8" Top Fence Rail Centre Pole - Designed for typical Mega Trees of 8 to 20 feet in height mega tree topper.
Also purchased a Holidaycoro Centre Pole Load Spreader and a Boscoyo mega tree kit.
Once I realised that all the pipes that were used are American standard or not available in Australia, I started to see what I could come up with.
I searched for what pipes were available in Australia. None of the Aussie pipes at Bunnings actually fitted either mega tree topper or centre pole load spreader correctly.
So, I thought about using threaded galvanised pipe, I decided on 25mm threaded pipe. With the galvanised pipe I could fit the pipe in my Ford Focus easily and purchase all the different sizes to make the mega tree whatever size I liked. I purchased 2 x 25mm galvanised flanges from Bunnings and a few connectors to put it all together.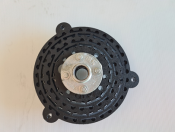 Bunnings have many different galvanised size pipe and fittings. I also wanted a star on top of my mega tree so the pipe worked a treat as I just added a 20mm pipe for the star with a
reducer.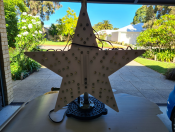 I found the Holidaycoro topper was excellent to bolt the galvanised flanges to. Used 6mm bolts. It made it quite sturdy. Using the threaded pipe also makes it very easy to put together and dismantle.
I was not overly happy with the centre pole load spreader supplied by Boscoyo or Holidaycoro (very small and did not fit Aussie pipe tightly). I decided to buy an Umbrella Market stand and place my galvanised pipe into the stand (stand came with different size bushes).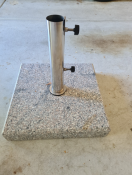 Also using the Umbrella stand I could shift the tree quite easy as it just sat on top of the lawn. This actually worked well and kept the tree sturdy. I also attached to the topper 3 guy wires. These guy wires came with the Boscoyo mega tree kit. You can also purchase all the fittings for guywires at Bunnings. No, I don't have shares in Bunnings.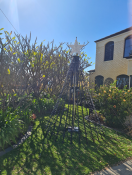 I purchased some Boscoyo pixel strip and used these on the Holidaycoro topper. The Boscoyo strips with zip ties are so easy to attach to the topper. I then just used tent pegs to hold the Boscoyo strips into the ground.
All in all, it was easy to do. I had never seen a mega tree in real life previously. So, my ideas on a mega tree were limited.
After seeing a large mega tree for the first time last year, I decided to make my mega tree 24 x 50 pixels for 2021. I liked the idea of having the strips a little further apart at the top and a little bit closer on the bottom compared to 2020.
I purchased the smaller mega tree topper from Booy on this forum (Standard 25mm flanges did not fit) Purchased (Not available at Bunnings) some different galvanised flanges to attach to Booy's topper. Only 6mm bolts would fit through the slots I used to attach the flanges.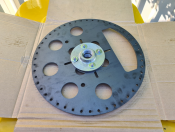 So just thought I would share for all the non-handypersons an idea for their mega tree.