Dedicated elf
Administrator
Joined

Jun 20, 2009
Messages

1,606
Location
Lawn may be the wrong word as the entire front yard is wood chipped
The lights as displayed in the video
View: https://vimeo.com/11551125
are all just 5050 RGB Leds custom made like below

There are 6 led's per stake and 12 leds for a RGB control track, they ran from 48v in 2009 with constant current drivers inline with each channel.
They covers are a soft bendable acrylic that have just been siliconed over the top of each LED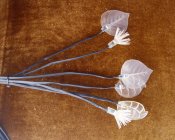 i got three different types to try out, from 10-15 feet they all looked the same at night.
The covers cost around 0.25 cents each in 1000 quantity (mixed) so not cheap but they work well. I'm trying to contact the vendor again and if he can get stock I will see what interest there may be in them.
Cheers
Phil