Hi, not sure if this is more of an arch build, a power supply, or a power injection thread so I'm going to dump everything in here
. My intention is to showcase some preventative checks and measurements so you too can prevent fire
I've built the 2.5m tube 1.5m arch setup as detailed by
cdjazman
but managed to screw it up (the strips ended up being about 20mm too long *head desk*)
I have
custom 3D printed feet
and the arch is maintained by 110lb fishing line.
I'm now sorting out the power control and thought I'd document that.
I've got it all in a box, I want to figure out under full load if that box needs venting so it's sitting in the spare room on with a zigbee thermal probe inside the box and another one outside the box.
I was finding that despite being 12v it wasn't making it the full 15 meters, I'm not surprised, so I've started power injecting.
Before power injection I was using a thermal camera to poke around the
connectors that I'm using
and saw they were getting a bit warm but after injecting that seems to be a lot more sensible - I can totally recommend stretching your budget for a cheap thermal camera - tho don't get the one I got the date and time keep resetting and if you don't notice before you start taking photos you can't figure out which order you took them in.
These first two temperatures come from the first injection/data, it's still got the dodgy connector they include, I'll swap it out before it goes outside, and that's a soldered board connection not one of the above connectors - for reference.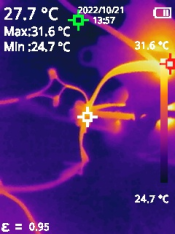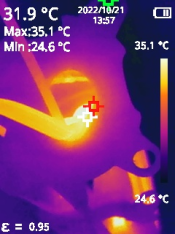 This is from the second power injection, the wegos for anyone who wondered how they handled 3.5 amps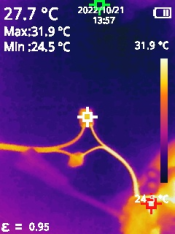 This is where the injection actually enters the strip - it is a bit warmer (at 3.5 amps) than I'd like and I'll be checking it again later but I suspect if I add another injection point between this arch (the second last one) and the start of the the prop (I have injection points available at each arch) but 45 is well in spec for these connectors, isn't even softening the hot glue. The second photo is at the end of the first or second arch just checking the temperature of the connections between arches.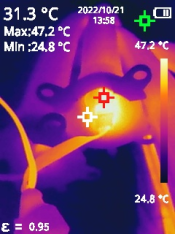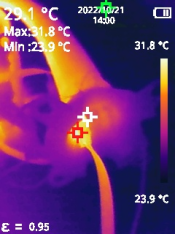 This is what the outside of the enclosure looks like at close to 30 minutes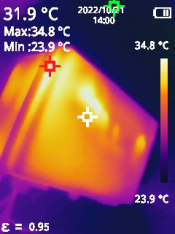 Last edited: