Joined

Jan 19, 2012
Messages

1,109
Location
This release adds a new effect class, Shimmer.
Shimmer is a square wave effect that effects all of the nodes.
There are 4 controls, only the first two work now.
1) Duty Factor slider
2) Use All Colors
3) Use Blink Timing
4) Blinks per Row
1) The Square wave will default to 50% on and then 50% off. If you move the first slider you can change this so that there is just a small on and large off
OR you can slide the slider all the way to the right and there will only be ON, no OFF.
Since the effect does use the 6 Palettes that you can pick, if you have two colors the square will alternate between the colors, One color after the other.
2) Use All Colors, if clicked, Will not cycle through your colors but instead randomly pick those colors and display them. Dont know if this is useful, thought i would through it in.
3) Use Blink Timing is not implemented yet. I should have it by this weekend. This option will disable the speed slider that 1) and 2) use above and instead calculate the number
of blinks by looking at the time on the current row and the next row below it.
4) Blinks per row will be used if (3) is checked.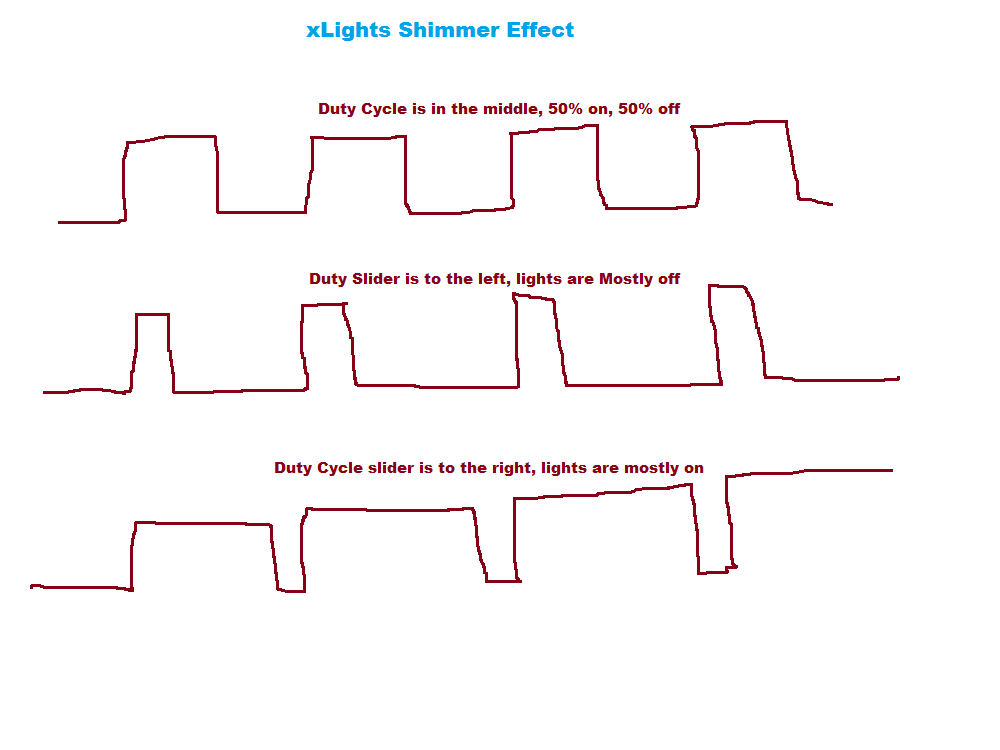 XLIGHTS/NUTCRACKER RELEASE NOTES:
=================================
3.4.22
-enh (sean) Added new effect class "Shimmer". This effect is basically a square wave, it turns all lights on and then all
lights off.
-enh (sean) Removed FACES, COROFACES and PINWHEEL from the "Create Random Effects" button
-enh (djulien) Change Pgo "auto fade element" to "auto rest" (not functional yet), leave initial Pgo Preset cleared for stitch