Joined

Jun 30, 2010
Messages

716
Location
This thread will be used to provide a few hints and tips that might help you navigate and use the new website.
How do I mark an individual forum as read?
Browse to the forum you want to mark read and then click "Mark Forums Read" underneath the Forums navigation tab. You'll be asked if you want to mark just that forum or every forum as read.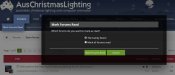 Help! I accidentally closed a tab/window and lost a post I was typing
Don't worry, there is a lifeline
. On the same computer, browse back to the thread you were in the process of replying to and your post should appear in the quick reply box beneath the existing posts. For new threads, browse to the forum section you were in and press "Post New Thread" to retrieve your incomplete post. Draft posts are automatically saved approximately every 2 minutes (indicated by a "draft saved" message in the lower right corner of the post editor).
Caveats:
Javascript must be enabled in your browser to use this feature. Draft posts are automatically deleted after being abandoned for 24+ hours.
How do I make chat bigger on mobile?
Under the chat navigation tab, click "mobile view". Although this view is designed for mobiles, nothing stops you from opening it on a tablet or regular computer.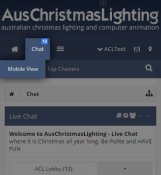 Where/how do I register for a mini?
In the
Mini Christmas Expos
forum, click on the topic for the mini you are interested in. If registration is open and you are logged in, you'll find a green "register for this event" button in the first post. During registration you can specify how many people are going (including yourself) and leave a note (such as which days you are going and what you will bring).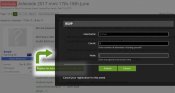 Minis may have limitations on how many people can attend, and it is suggested that mini organisers use this list when more people register than the mini/venue can safely support. This list is sorted in the order of mini registration time.
Tip:
The Mini Christmas Expos forum now has filters to show threads only relating to a specific city's mini expo. You can click on a coloured thread prefix to active this mode. You may click the X next to the current thread filter to remove it.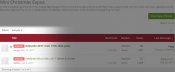 ---------
The discussion about the move is located at
https://auschristmaslighting.com/threads/welcome-to-the-new-auschristmaslighting-forum-discussion.9699/