Joined

Jan 19, 2012
Messages

1,109
Location
With 3.0.13 release there are two new options on the twinkle effect
twinkle steps
strobe
Twinkle steps is a slider that defines the steps for the ramp up and ramp down. In previous releases this value was always 3 steps up , 3 steps down.
So twinkle effects had the following intensity values
.1,.3,.5,.7,1.0,.7,.5,.3,.1
Now the slider allows up to 100 steps total or 50 steps up and 50 steps down.
The Strobe box will allow only the 1.0 value to be shown for a single 50ms period.
I will cover these two new sliders in tonights tutorial.
thanks
sean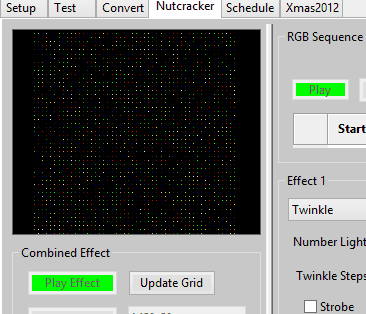 Gif doesnt really capture the strobe effect so here is a video of effect on my Las Vegas ceiling.
https://vimeo.com/67334993
thanks
sean