Full time elf
Generous elf
Joined

Dec 28, 2016
Messages

211
Location
Hi Everyone.
I picked up my set up second hand. I have an F16V3 with 4 smart receivers. The small boxes with the receivers are at the front of my house and the F16v3 maincontroller is at my front door and does my roof and mega tree.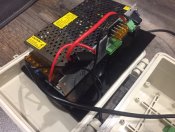 photo above, as you can see unused V- and V+ port.
In the box the smart controller is set up with power to the smart controller and network. The 4 ports are 2 with data, and 2 with power injection. I have 4 mini trees with stars, some globes, and arches, and candy canes all down on one box so would rather spread it over 4 ports (limited to 200 each port).
So can I change the 4 ports to full data and pull some power out the unused port and create some separate power injection ports? I'm running 5V so I'm going to need power injection. I'm already seeing some flickering on lights (which I have assumed is power injection issues). I read somewhere that it's ok to do this but you have to combine the ground wires? If they are going back to the same power supply (but a different port) does that matter?
TIA