Hi all,
Couple questions
I'm running 20m strand of 5v WS2811 @ 22cm spacing = 92 nodes total. No extension lead.
The last 10 meters, especially the last 5m is flickering so I obviously need to power inject.
With the positive disconnected in the middle of the strand at 10m - I've tried power injecting at 10m and then tried at the very end of 20m and the flickering is actually far worse, almost like its struggling with data / maintaining the programmed pattern. Thinking that perhaps the data line in the middle of the strand was the issue I rewired it again and again. Still same problem.
I've worked out that i need at least 5.52A (Number of pixels x 0.06)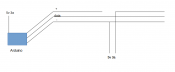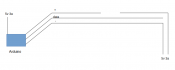 Questions:
The fact im using two 3A PSUs could be the problem? Do I need two PSUs higher than 5.52A? Does 2x 3A PSUs not equal 6A?
I was told that there's a certain side of the pixel node that can only take power. Is this true? I've tried powering from both sides and it appears to work.
Cheers