I saw this on the web some where, but of course I can not find the link now.
The idea is to do reflow on the super cheap.
The only items you need are a coffee/candle warmer, already had one.
And an embossing gun, got mine for $25 delivered, but local craft stores should have them.
And some solder past you will probably have to order.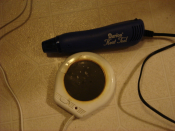 the warmer gets up to 230 degrees and starts to liquefy the solder.
Then the embosser heats the solder to melting and the parts dance into place.
Looks something like this
View: https://www.youtube.com/watch?v=oEDB70bN7M8
The magic starts to happen about 45 seconds in.
I have completed 39 strobes. Only one bad one.
Average time 7 minutes per strobe.
No on board PICs. Will trigger externally.
Joel