Joined

Feb 15, 2014
Messages

613
Location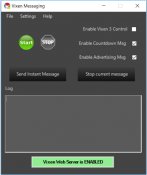 Version 3.3u2 Major revision
.
*********** Please go to the new thread in the Software forum or
click here
****************
For those interested I have completely redone the Vixen Messaging App to make it look and feel the same as Vixen and to significantly reduce the complexity.
- The new version only excepts messages from Twilio, after using it for two sessions I felt that Twilio was the simplest and most efficient way to have the audience send messages to your Display.
- Updated to work with the latest Vixen 3.3u2 and above.
- Updated to use the latest Text effect, settings and added basic two color gradient.
- Can send an instant message to your Display.
- Can still send a countdown to a specified date message to your Display.
- Smaller, faster and cleaner.
- If there are any issues installing it then as per very first post, you may need to add an exception in your virus software.
Download 64bit Version
https://www.dropbox.com/s/q3dp4nq9w3lwj2a/Vixen Messaging 3.3u2 64bit.exe?dl=0
Download 32bit Version
https://www.dropbox.com/s/uc4bu37pfsi8uiu/Vixen Messaging 3.3u2 32bit.exe?dl=0
Videos
Demo
https://www.dropbox.com/s/mkurn960dx6s9so/Vixen Messaging Demo.mp4?dl=0
Setup Twilio
https://www.dropbox.com/s/p8qnogrjqnpga14/Twilio.mp4?dl=0
Control Messaging App from a Vixen Sequence
https://www.dropbox.com/s/28egjk9qmxmo8fd/Control Messaging From Vixen.mp4?dl=0
Main Features:
- Audience can SMS Messages to be displayed on your Matrix/Megatree
- SMS with Twilio account.
- Start and Stop retrieving messages from within your own Vixen 3 Sequence using a Command Control. This is the best way to use the app if you don't have a dedicated Matrix for this as you can start the Messaging app when you Matrix is not in use with your Sequences.
- Customise the Text message with Font, direction, Position, line number and colour for each line of Text (including Random colour selection)
-
Add multiple matrix/mega trees and direct local messages to selected matrix for display.
- Display a Countdown (for example: number of days to Christmas or to any date entered)
- Use Vixen 3 Sequences
- Filter messages with a Whitelist or Blacklist to ensure no profanities are displayed.
Firstly the following application is NOT supported by the Vixen Dev team so please do not create tickets or contact them for issues and information, please PM myself if you have any questions.
The software enables the audience to SMS (as long as you have an account with Twilio to SMS with mobile number) a message to be displayed on your Vixen 3 Matrix or Megatree with various effects..
All the audience will do is send an SMS to the Twilio phone number that was provided to you add the text to the display within only a few seconds. There is also the option to use a Blacklist or Whitelist to ensure dirty words are not displayed.
Vixen Messaging can also add sequences that you created in Vixen for the Matrix and can be used while no SMS messages are being sent from the audience.
There is also many options for the Text to be displayed such as Font, direction, speed and position.
Important Notes before installation:
I have Trend Virus software and it thinks Vixen Messaging contains a virus. This is not the case however you may need to add the "Install file", the "Program Files\Vixen Messaging folder" and the "c:\users\xxxxx\appdata\roaming\Vixen Messaging folder" to the exclusion list of your Virus program.
Cheers and I hope you enjoy.
A few screen shots:

Last edited: