I posted this on DIYC, but I wanted to share here as well since a lot of the information I have gleaned over the past couple years have been from both sites and the professionals in this forum offer the same advice about wiring.
Display has been running since December 1st with a few small hiccups (one tripped GFCI), this was actually amazing considering it has been raining for a week or more....
Took dog for a walk as I always do around 8PM and walked past the 8 or 9 cars parked enjoying the show when I received a frantic call from my wife about 15 minutes into my walk. A lady came to the front door to tell her my talking tree was on fire! I ran home and the show was still playing along (pixels and dumb RGB were fine) but the 6ft talking tree was dark (AC, made out of led rope light). I quickly took a flash light but could not see anything burnt and no damage to house. I let the sequence finish and shut everything down. I took a ladder out and climbed up to detach the tree and this is what I found: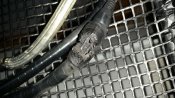 Thank God I had the SSR fused.....fuse blew and all I lost was a section of LED rope light.
Guys may think it is a waste of money to fuse things with a small load (in this case it was a 6ft section of rope light, can't get much smaller than that for draw), but when the experienced electricians and electrical engineers on this forum (of which I am not, just a computer geek) recommend you follow some general safety guidelines it is a good idea to do so.....
I just want to say I am grateful for the insights from the professionals on this forum and a huge Thanks for showing newbs like me the safe way to enjoy this hobby.