I have this one window frame that doesn't look right - it looks like it's wired anticlockwise instead of clockwise or something - except that it isn't!
All my window frames are clockwise starting from bottom right. I've triple checked the wiring and the number of pixels. I've checked the layout and the port. I've reuploaded to the controller multiple times... what else could it be?
These are the settings for the frame: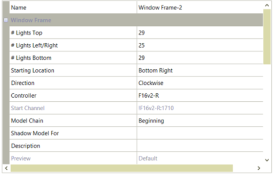 It's on a port by itself:

It's a little hard to describe, but when I have a pinwheel, all the other windows rotate in the right direction, but this one seems to be rotating the other way, with a break in the wrong spot (as if the width and height is swapped).
Any ideas?