Joined

Oct 22, 2010
Messages

280
Location
I bought some wireless IP cameras this year and I thought a review would be in order. I know we had a discussion about cameras earlier on in the season.
I Bought 4x Tenvis wireless IP Cameras off Ebay for around $230. This is off the manufacturer in China but shipped from their warehouse in Australia via Australia Post. It came extremely well packaged. The top layar was a tough plastic cover, the next was the sponge foam stuff, inside that was the actual box the camera was in, then inside that box the camera was in the sponge foam with perfect cutouts. Each camera was individually boxed this way.
Best packaging I have seen.
First impressions:
Simple Design
Nice smooth black appearance
Great size for stealth applications.
Quite light
How long will it take before the kids break it ?
These tilt and pan remotely so I can change the position of where it is pointing at any stage. This makes them very universal in the way i can set them up. I have one pointing at the Donation box , one down the left side of the street and one down the right.
At this stage they are sitting on my window sills, so sometimes at night I get reflection off of the glass. Daytime is unobstructed. The image quality I have found is quite good, even with the minimum resolution selected.
The lens focus can be adjusted via a little ring too.
They are wireless too with the option of plugging in a cat5 cable back to your network switch/ router.
Stats
Image sensor: 1/4 CMOS
Lens: 3.6mm with 10x IR LEDs for night vision (up to 8m vision)
Min Illumination: IR 0.5 LUX
Tilt/pan angles: 300 degrees pan,90 degrees tilt
Video Resolution: 640x480 VGA (15 FPS) or 320x 240 QVGA (25 FPG)
Wireless Communication: IEEEE802.11 B/G or RJ45 connection
Wireless Security: WEP, WPA, WPA2
Audio: 2 way (talk or hear)
Ability for motion sensing , Sends alarm pictures/video to email or FTP
Working Temp: 0c- 55c (indoor)
Humidity: 20%-*5% (without condensation)
Power Supply: 5v DC 2A
Power Consumption: 5w
You can connect up to 8 cameras to a network (depending on your own network setup of course)
Also it has the ability to be viewed over the internet via DDNS. I have yet to set this up (slack
)Will report back when I have done it.
Iphone and Android connectivity are also available to use.
The setup of the camera is quite easy. Everything is viewed or changed through your browser via the IP number assigned to one of the cameras. Configurations do vary on browsers so check what you need to do to set it up.
Actual Camera control Screen with 1 camera being viewed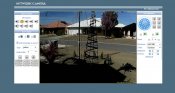 You can assign users to the cameras at varying levels. Administrator lets you change everything , Operator lets you record and change a few settings like Motion detection alarm, then you have Visitor which is view only. All are password protected
Config Screen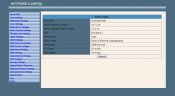 The camera itself can be set to patrol mode. This lets it roam around by itself tilting and/or panning around looking for any action taking place. This can record to your hard drive full time or when motion sensing is active it will record in 1 min intervals while the action is taking place.
The camera is not really rated for outdoor use. However I think in a sheltered position (like under the eaves) this should be fine. The image can be flipped and rotated for upside down use. I will be mounting mine this way in the coming days.
All brackets and screws are supplied in the kit.
Depending on network load I have noticed a little amount of lag in wireless mode, but nothing I cant live with. Its only like 1-2 seconds max. This includes the control of tilt/pan functions.
All in all, they have been a great little thing. I love them. I know they arent the best camera around but they are doing exactly what I want and having remote access via my phone or internet will prove handy.
One thing I do not like is the brightness of the power LED, I think i will try and dull this down with a good ol black permanent marker. That is my only gripe.
I found they are also great for freaking out the wife. Following her every move when she was in front of the camera
(and no not in the bedroom!!) . While she did not think it was funny. I did
Well I hope this has been informative. If i left something out let me know
Cheers