Full time elf
Generous elf
Joined

Dec 31, 2013
Messages

107
Location
Hey all,
After discovering how close to Christmas we are it's time for me to start putting my display together. I put everything I've collected over the previous year on a new workbench and it appears I had more than I thought!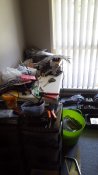 I have a couple of queries so I'll list what I'm thinking of doing and then my questions.
Approach:
So I can test the water this year, I'm planning to integrate all of my BIGW strings only into a 2811 display. I have purchased a P2 from j1sys and a 2811C30 from Hanson Electronics. I've also bought bits and bobs from Ray Wu including some strip and string, but I don't plan on integrating that this season.
I'll be using a Raspberry Pi running Falcon Pi Player to run the display. The Pi has a wireless usb device connected to allow me to manage the display without needing to run a data cable to where I'm mounting the enclosures.
Enclosures:
I'm using the $10 special from Masters as my enclosures as I'm lucky enough to have one just down the road. I've cutout a thinnish piece of poly carbonate and used that as a mounting board. I've secured the circuit boards to the poly using motherboard screws. I plan on drilling some additional holes in the poly so that I can use some cable ties for strain relief.
My display will be split over 3 enclosures, all mounted on a piece of ply and screwed to the wall of my house.
Here's where the enclosures are at so far:
Enclosure 1: 30v Ray Wu power supply, supplying to 2811DC30 and P2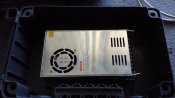 Enclosure 2: Housing Pi, P2 and 5v power transformer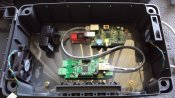 Enclosure 3: Housing 2811DC30 / LED string connections.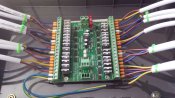 My questions should anyone be kind enough to answer:
Fusing:
- I know this question gets raised a lot, but it all seems to surround pixel strings. Assuming that each string could contain 600 LEDS, and that each string draws about 0.01A (10mA), this works out to be 6amps / string (3A / channel at full load. Do these strings need to be fused individually (they don't appear to be fused out of the box)? I found this page
http://www.powerstream.com/Wire_Size.htm
which suggests that 3.5A is the max (24AWG chassis wiring).
- If the answer to above is yes, what would be the best approach for doing this through a 2811Dc30 (using a central fuse block? separate to the DC30 (so no +V connected on the board itself?))
- Should I be fusing between the 30V supply and the 2811DC30 / P2?
Wiring:
- Having an abundance of PC power cables at my disposal, I've been using individual wires
Cooling:
- The enclosures will be mounted on a western wall under a verandah, so by the time the display turns on they may have warmed up a little. That being said however should I be installing a cooling fan/s? If yes, I was planning on tapping into the 5V supply for the Pi and stringing it to the enclosures.

Sequencing:
- I really only want to mimic the out of the box controllers for these strings this year, is this simple enough to do? Most of the sequencing seems to be geared toward songs so I don't know if it's easy enough to configure a simple loop of basic on / off / fade / twinkle etc.
Thanks for taking the time to read and thanks again if you reply. Sorry if my terminology is off; still trying to soak up some things. So far I've really been enjoying working with wiring again, it definitely makes me respect some of the larger displays noting how much effort is actually involved.