i'm guessing this should be a relatively easy fix (other than the obvious rewire it solution)
I have three coro candy canes and stupidly glued the led's in the wrong direction for one of them. I'm using xLights for sequencing, FPP to run the show and ECG-P2's for my controllers,
The LED modules in my canes are a different RGB order to the strip for the rest of the my display and I have corrected this using Effect config in the ECG-P2. On the effect config page there is a tick box to reverse. I'm assuming this reverses the pixel order for those nodes?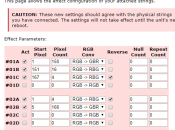 It appears to work but only half my reverse order candy cane lights up running the sequence.
It all works perfectly using the display testing mode from the FPP when I select all channels, but only half lights up if I select the model to test from the model testing dropdown..

In Xlights I have specified that the candy cane starts at the opposite end to the other 2 but that doesn't seem to work..
Any suggestions other than pulling the candy cane apart and rewiring would be greatly appreciated