Joined

May 31, 2011
Messages

13
Location
I am wanting to outline my roof line with some sort of rgb solution this season. I have been watching the new LOR cosmic color bulbs with interest, but I am always looking to save a dollar or two if possible.
I attended a conference last weekend where several solutions were shown using the software package Madrix to output dmx and control pixels in various configurations. It is absolutely wonderful software, but to do what I want would cost me $1300+ just for the software, then I would have to go from my lor idmx to another dongle to madrix out to another dongle to the pixels and I am really looking for a simpler solution and I am willing to sacrifice on the features in order to do so. Plus, my project will have sometimes 20 feet of seperation from where a centrally located controller could reside to some of the strings..
I want to simply store my patterns on an SD card and trigger the controller via dmx to play those patterns on the pixels. I have found some controllers that seem to do just that and use LedEdit software to store the patterns on the controller media.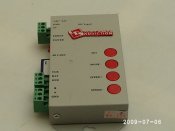 You can read more about the controller (along with a package of tubes I am/was considering at this url:
http://www.chinesedepartmentstore.com.cn/osc/product_info.php/cPath/452/products_id/8368
At any rate, has anyone had experience with this controller and could recommend pixel strings that would function well with it? I am looking to price out a solution to see if it would work for my application.