Joined

Feb 20, 2013
Messages

126
Location
Forgive me if any of my terminology is incorrect.
I am wondering if it is possible, with no/little downfall to daisy chain the P2 controllers?
If my project calls for two P2 controllers and they are both 75 feet from my computer and switch, I'd like to avoid running two 75' CAT5 cables. Or is this a big no-no for some reason?
Here is a pic of what I believe to be the 'normal' setup..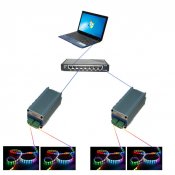 Here is a pic of what I'm wondering if is possible, what I'd like to accomplish.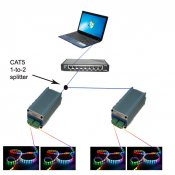 Thanks in advance!