Crazy elf
Global moderator
Generous elf
Joined

Dec 19, 2021
Messages

632
Location
Hi all,
I'm encountering an interesting flickering issue with one particular string set on a DMX2-24 board.
Basically, if I set the DMX channel for one half of the string on, with the other channel off, 99% of the time, it's lit up correctly.
However, there is flickering to the other channel for a few 10's of milliseconds every 5 or so seconds, but it's random.
It's not an issue with the controller or DMX input, as it happens on every output, but only with this particular string. Other string do not exhibit this issue.
Additionally, if I parallel this string with another string, the issue does not occur.
Video of what's happening - the Yellow/Green channel is set to on, the Blue/Red is set to off. You can see the B/R channel illuminating a couple of times very quickly. Note the pulsating on the GY channel is to do with the video capture, it's not occurring in person.
The scope output of the channel (in respect to gnd) when it flicks is showing the polarity reversal for two or three cycles: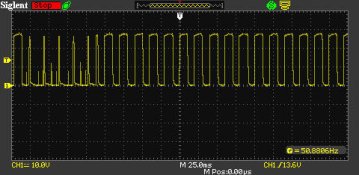 Has anyone seen this behaviour before, and can account for it? I'm thinking it might be load related, but I'm not sure.
Cheers
M.