Hey all.
I've previously mentioned in another post that I've made a WLED based ESP32 controller, which had a few shortcomings that i wanted to address in a v2 version. I also learnt since that Espixelstick are currently developing a unifi branch of their firmware that supports ESP32, which is great as it offers SD card support to store sequences as well as support Fpp remote play so you eliminate wifi sync issues.
Here is my previous WLED compatible "v1" version i've previously made, albiet it was for myself and a few close friends.
Biggest shortcoming to this original version is that the 5V linear reg gets a little too hot for my liking when using 12V input power. They however work fantastic with 5volt pixels (and the 5v reg bypassed). Note: I still have a handful left for those interested in a simple single output wled controller for 5v ($25 + postage cost)- Message me if interested.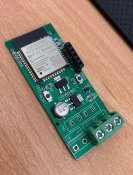 Now for the V2 stuff Ive been coming up with on a 100mm x 30mm board.
The current design has the following features.
-- ESP32 Wroover controller
-- 2x buffered and fused outputs
-- Same molex pluggable screw connector most muiltiport controllers use.
-- SD Card (currently only supported by espixelstick unify branch firmware. There is currently a open request on WLEDs github to support this)
-- DC Buck convertor (no more hot linear reg!!)
Here are a few renders. The Design is 99% there. A few additional decisions need to be made before I send off to get the PCB's made.


Few thoughts..
-- Should the 3 pin connector be 90degree (as per the renders) or Straight onto the board
-- Pinout order for the 3 pin connector? Ground - Power - Data? Ground - Data - Power? I think Falcon/Kulp run the later from memory.
Anyways, Open to discussion for features / design changes I may have missed before i get the design ordered.
As mentioned above, this is something I'm designing/building for a need myself and a few close friends want (Theatre room them lighting etc), however, I see there is a interest here for this type of hardware, so I can make / sell additional units to those interested. However, this will happen after I've built and validated the design. Don't want to sell a design i'm unhappy with. Price wise I expect these to be approx ~$35each.
Danny.