I am posting this hoping for a hail Mary :
But I expect a bin job :'(
I purchased a cheap Chinese transmitter
http://www.aliexpress.com/item/Freeshipping-home-Digital-PLL-stereo-power-FM-transmitter-home-radio-station-ant-power/669283395.html
I tested it fine, then set up my display and got it all working, I even had my sign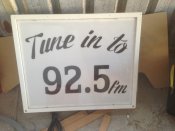 with LED modules and a 3 channel controller , but I digress.
After 3 days, I went and turned everything on for some more adjusting and turned on some tunes then the radio to listen, but alas, The transmitter was no longer working
I tried everything from computer outputs, new audio leads.
I moved the channel up the frequency range and found that if it was set at 108mhz (as high as it goes) I could get a garbled audio on the radio, so I assume that the transmitter is not locking on a frequency or something.
The question is, has anyone ever played with these things, and had any success with repairs etc.
Back in the old days, I would have looked for a xtal that may have drifted or dry jointed etc, but most of this is surface mount, so I am guessing I am stuffed! :-\