Hi All
What a great community. Learning heaps for a little while now. But would like some input on controller options and features as I have only seen them in videos.
Attached is my xlights layout. I would imagine I would need 1 controller on the roof for the lights up there (diagonal and horizontal) and 1 on the ground for the vertical strips. But to avoid running cable across the path and driveway, would prefer to have 2 smaller controllers either side on the ground.
I'm happy with the Falcon controllers with all the recommendations I've seen, but a F16 for roof and ground seems overkill and with little to no expansion in the show is planned wouldn't be using it to full potential. I see that there is some smart receiver boards. Do these have to be used in conjunction with at least 1 full size controller? Or do I go with the F4
If all the controllers are able to get an Ethernet connection to them, does it matter if each controller is not directly connected to each other?
I hear you want each strip of lights to start as close as possible to the controller, so 1x F16 wouldn't do me any good either then
So a bit stuck on what is the best solution not having experienced using them and setting up with them. What do you think?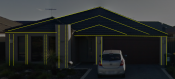 Cheers
Ryan