Joined

Nov 1, 2020
Messages

43
Location
So it's been a while since I posted in here, and I know being the middle of July, I'm already leaving it pretty late, especially considering the impacts COVID is still having.
Tax return came back and the wife is happy for me to spend about $1,100 to get my first show up and running. (That's $1,100 before trips to Jaycar & Bunnings etc. for conduit, wire, heat shrink etc. - Expecting a few hundred dollars extra to be spent on everything to piece my show together.)
However, the $1,100 I need to stretch to get all my lights, Mounting strips, PSU/s, Controller and whatever else I need.
As my original display idea stands (pictured below). I'm realising my "Simple" display, is probably going to cost me A LOT more than I was hoping/planning.
So if I cull:
-Mega Tree + Star
- 4x Mini Trees
That's going to essentially reduce the pixel count by 50% and a lot less mounting strips.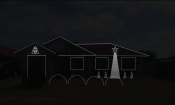 Where I'm really struggling is just knowing the who/what/when/where to buy from. Unlike PC components, where I know the best brands, I know where I can save money without compromising too much etc. I am VERY much clueless with this.
What I'm wanting to know from you guys please, is what you would do if you were me and had my budget to get your first show up and running.
The Numbers:
Budget:
Aprox $1,100AUD
Pixels required:
- Roof Outline -
742 @ 2" Spacing
- Windows & Garage Outline -
522 @ 2" Spacing
- Medium Arches & Singing Tree - 128 (4x Arch) + 252 (Singing Tree) =
380

= 1,644 Pixels
- I plan on running 12v Pixels
- Obviously I really want to support Aussie companies, but I get the feeling that may be a bit limited with my budget?
- I have a PC in the garage that will be running the show
I'm willing to accept any and all tips, advice, help & input. I'd reeeeallly like to try and accomplish at least everything (minus mega & mini trees) where possible.
Thanks in advance!
Ps. Thanks to the guys who have already begun helping in chat
Pps. Please keep responses in mind that I'm still trying to wrap my ahead around where I connect the flux capacitor