Joined

Jun 30, 2010
Messages

716
Location
Hi all,
Two years ago, AusChristmasLighting originally
migrated
to the XenForo 1.5 platform. And now, we're just about ready to make the move over to the latest version of the software, XenForo 2.1. We've been planning for this transition for
quite a while
. I think that around about now is our last chance to make the move this year - and the essential components (XenForo core, third-party and custom features) now appear to be stable/mature enough to roll out.
XenForo 1.5 is no longer being maintained by the developer, with only security updates issued until December where all updates will cease. For this reason, upgrading the site sooner rather than later is preferred. There are just a few more checks that I need to work through prior to making the final decision on whether to proceed with the site upgrade or defer it until the start of 2020. If it does occur this year, it'll happen within the next week or two.
This upgrade will require some site downtime, but I don't expect this to last more than one evening. I will create a separate announcement specifying when the outage will be. Over the coming days, you may notice that some parts of the site may begin to change slightly and that non-critical or infrequently used features could become inaccessible as we get ready to upgrade.
Under the hood, XenForo 2.1 is a complete rewrite and is not backwards compatible with XenForo 1.5 that we currently use. This means that developers of third-party XenForo add-ons (extra optional features and tweaks) have had to make significant changes to their projects in order for them to keep functioning. I have personally dedicated countless hours into programming new (and I hope that you'll agree,
better
) versions of the Display Videos and Display Locations areas - but I will create a separate announcement for introducing changes to these areas.
Just some of the changes to the core platform are, in no particular order:
Enhanced mobile-friendly design.

For example, a sticky navigation bar that on small mobile devices converts to a collapsible off-screen menu)

Easier message editing and new thread creation

For example, create a new thread without leaving a forum section's thread list).

More easily discover new content, navigate between new content lists and find the threads that you started or posted in.
Unread alerts in browser tab.
Mark an alert read automatically when you browse to that content (e.g. forum post).
Push notifications* – Receive a device notification for things that normally generate a site alerts, such as a new reply to a watched thread.

*Supported devices/browsers only. At this time, Apple iPhone/iPad (all browsers) and Safari for macOS are not supported.

Bookmark more kinds of content, such as submissions under "Media", wiki pages and display videos.

Optionally you'll also be able to categorise/group bookmarks using custom labels. When viewing your existing bookmarks you can then filter them by label..

Avatars for everyone! For members that haven't uploaded a custom avatar, dynamic letter avatars (based on your username) replace the boring grey '?' default image.
I'm really looking forward to finally unleashing the changes for you all to experience. I hope that you'll like them and that they will help make this excellent community resource even more useful to learn from, build friendships and contribute information to.
If you'd like to comment on or give feedback about the upgrade, please see the following discussion thread:
https://auschristmaslighting.com/threads/discussion-and-feedback-for-xenforo-2-1-upgrade.11795/
Happy decorating.
- ryanschristmaslights
PS: Here's a little teaser of the enhanced mobile-friendly design: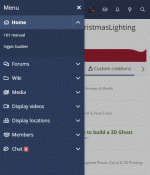 (on larger devices e.g. desktops and laptops, the layout will stay much more like the site you already know)