Joined

Oct 9, 2011
Messages

5
Hi, Just stumbled on this forum last night whilst searching for new things after deciding that we were going to start doing a light display again this year. Along with the family, I have been decorating our homes for the past seventeen years and have added a little to our display each year. We skipped last year after being sick and tired off vandalism and having to sit up every night for four weeks from the previous year trying to fend of teenage groups that were attempting to destroy the display. Along with quite a few others on the Sunshine Coast, we had retired from the Christmas light scene but after having the last year off we've decided that we're not going to let a dozen or so local little $#%&@
stop us again from doing something that gives a lot of joy to so many people in our community.
The last display that we had prepared was a reasonable size and had just under 40,000 bud lights, 250 metres of rope light, 18 large inflatable decorations, a double garage display with numerous motionettes and other Christmas toys, a nine metre double arch over the driveway (which was the most targeted item by the local yahoos) and numerous Gemmy light and sound path stakes and so on. I desperately wanted to make the display automated but just couldn't find anyone two years ago to steer me in the right direction.
I would be very keen to catch up with any of the Brisbane based members that wouldn't mind sharing a few tips on automating a display.
Photo's that I have taken never seen to do the displays justice however here's a couple of photos from two years ago-
front of home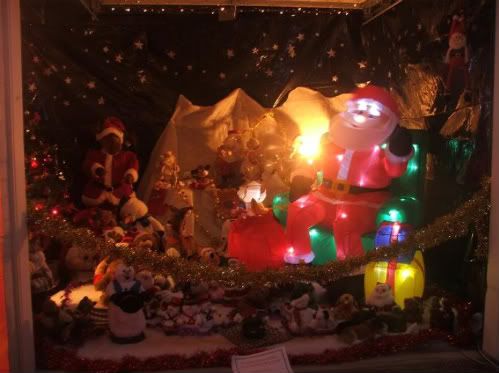 one half of garage display
If anyone has any thoughts on security measures to keep the rogue teens away, I'd be keen to hear from you as well, Thanks