Joined

Jun 30, 2010
Messages

714
Location
As mentioned in a
previous announcement
from earlier this month, numerous improvements have been made to both the display videos and display locations sections. These will roll out with the upcoming forum software upgrade and I can now reveal what is changing.
Display Videos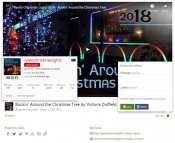 Let's begin with what is depicted in the above screenshot:
Watch a display video is now a dedicated page.

Bookmark a video for later viewing (E.g. perhaps you've been inspired by the sequencing style or a particular display element).
Like a display video (except your own, sorry ).

Share a video to sites such as Facebook, Twitter and more.
In a member's tooltip, see the number of display videos they have submitted. Clicking this number opens up a page showing all of that member's display videos.
Navigate to a member's display location listing from their display video. Perhaps you've watched their video and now want to visit their show in-person ... assuming it is the right time of year, of course !
Some other changes that are absent from the above screenshot are:
Visual indicators for videos that you have viewed/not viewed (similar to read/unread forum thread styling).

See a list of unviewed videos in a 'What's new' section. What's new is also where you will be able to see a list of new threads, media, profile posts and wiki page updates.

Search display videos.
View display videos from a specific member.
Specifically for your own display videos:
Edit previously submitted video information (song title, song artist, description).
A new optional 'description' field. Suggested uses:

List the songs used in your custom mashup (if applicable).
Reference where the sequence came from (if not your own).
Unique features specific to the video.
Display Locations
There is a lot of cover here, but let's start with the general changes first:
A greater emphasis of display show dates and 'last updated' time:

Start and end dates now also include the year.
Displays can specify their nightly start and end time (to the nearest 30 minutes).
New icons in several places that highlight the displays that are expected to be running that day.
Locations not updated for 18 months are hidden by default. Old locations will only be shown when a new "Don't hide old displays" filter (anti-filter...filter? ) is toggled. This is a member-only filter, i.e. you'll need to be logged in to use it.

Locations can be filtered to only show displays that are expected to run that day. This could be handy if you're planning to go and visit some Christmas lights displays one evening and want to skip the shows that aren't running (e.g. too early or too late in the season).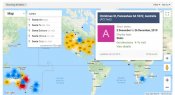 (N.B. ACLTest isn't a real display)
Specifically for the map view (shown above):
Faster initial map loading time and reduced mobile phone sluggishness during pan and zoom actions.
A redesigned info window with emphasised styling on a display's address.
Search for and pan to a particular suburb (when logged in).
Pan to your approximate location (as determined by Google).
Individual display pages have also gotten some much needed attention with the following changes:
A new page layout puts the map first before other content.
Ability to like, share and favourite display location listings. (More on what favourite means below).

If applicable, a limited number of near-by display locations may show on this page, on the map (as a clickable marker) and also in a sidebar list.
For managing your own display listing, a couple more improvements are:
Enhanced privacy controls. Now you can choose to show your display location to everyone, only to registered members (new), or set it to private. Note that sharing controls will only work correctly if this is set to everyone. When initially listing your display location your choices are limited to everyone or registered members (because what would be the point in listing your display if no one could see it? ).
Upload a photograph of your display. When provided, this photo will be shown on your display page and possibly within some other related pages under the "Display locations" site section.
And some new additions:
A new 'Regions' page, where display locations are presented in a list format and grouped by the region (Australian states, New Zealand, Overseas).
An experimental 'to visit' system where you can mark multiple display locations (up to 10) that you want to visit in one trip. This takes you off-site to Google Maps (website or app, depending on your device). I did say this was experimental .

A 'Favourite displays' page, which is a personalised list of display locations that you have marked as 'favourite'. Locations in this list don't apply the 18 month cut-off filter. They will remain on this list indefinitely until you unfavourite them (unless the listing is set to private).
On a member's profile, see a condensed version of their display location page under a "Display location" tab.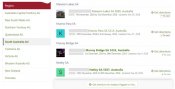 Discussion thread:
https://auschristmaslighting.com/threads/discussion-and-feedback-for-xenforo-2-1-upgrade.11795/
I'm looking forward to rolling these revamped sections of the site out for you all
. In the same way, I hope that you'll like these changes and find them useful.