Joined

Oct 25, 2014
Messages

395
Location
Since I showed off my 2016 xmas lights I have had a few people ask about my pixel icicles, so I thought I would do a bit of a post about them to answer some of the existing questions and also to answer some new questions before they come through my mailbox.
Last year (2016) was my first computerized display. I thought I would build a pixel mega tree and also add something else that was simple to the display. I saw some people were making their own pixel icicles which interested me, however I also saw Ray introduce some pre made pixel icicles to his store, this is exactly what I wanted, however the ones that he was selling didn't really interest me, they had drops of 3, 4, and 5 recurring, I wanted to have drops of 6 and 4 recurring so I thought I would ask Ray if he can make them up for me. There are a few reasons why I wanted to have the drops of 6 and 4. Firstly I have had numerous different icicles on my house over the years and the ones I really liked the look of had drops of 6 and 4 recurring, secondly it makes life easy to work out channel counts with drops of 6 and 4, each 2 drops is 10 pixels which is 30 channels, maths made easy in my head.
I asked Ray if he can make up some pixel icicles to my specifications and I sent him this image (made in MSPaint I might add) to highlight exactly what I wanted.

We struck a deal for my sample string, he made them up and I waited like a kid waiting for Santa. They finally arrived and well they were the wrong ones they were just the standard set with drops of 3, 4 and 5 but the length I asked for
lucky for all of us Ray is very helpful so he sent out a new set, this time closer to my original specifications, not exact, but workable. I did my testing and everything seemed to work exactly as I had planned, I went ahead and ordered enough strings to put up across the front of my house.
Now how am I to fix these to the house? For all of my previous icicles I had just used a staple gun and stapled them to the fascia board of my house, I didn't want to do this with the pixels, it may put strain on the waterproof connections, causing the wires to spread and the epoxy to spread, this would make a gap which water could then get in and destroy my lights. I needed to come up with something else. Off to Bunnings I went (Where a lot of our inspiration comes from) to wander around looking for something. I then came across some electrical cable trunking and thought this will do the job so I grabbed a length and home I went.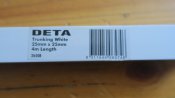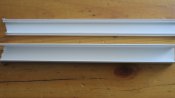 I then drilled some half inch holes (Had a half inch drill bit in the shed) and what do you know the pixels fit in just nicely.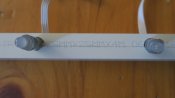 I then proceeded to drill 24 holes, all spaced 11cm apart and popped all the pixels in the holes. Well that works and I now have a nice rigid backing to hold my pixels, this means that I now don't have to worry about putting strain on the connectors which could lead to damage. But how was I going to let the drop hang down the bottom of the trunking? Well I cut a little triangle out of the trunking to allow the drop to hang out the bottom, this was going to work.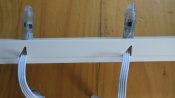 Now I had a new problem. I was originally going to screw the back of the trunking to the fascia board and then click the top of trunking on over the top. However cutting the little triangle out meant that the trunking was now a bit weak and was easy to crack with the weight of the lights pulling on the ends so I had to come up with another way of doing it, off to Bunnings again to work out what to do.
I found some round conduit brackets which would fit over the trunking and hold them in place. Now I could leave the trunking in one piece with the backing on, to attach these to the fascia all I needed to do was put the conduit bracket over the trunking and screw that to the fascia with 2 screws. Now I had my Pixel Icicles on a solid mounting and a way of quickly and easily mounting it to my house so putting them up and taking them down would only take me minutes.
My original order consisted of a string of 120 pixels, however Ray has now added a standard set of my pixel icicles to his store which is only 100 pixels in length and can be found here.
https://www.aliexpress.com/item/IP6...id=ef3a2fe8-50cc-4d53-8480-7f840da158c6&tpp=1