I have a couple of boards for extending pixel range beyond the typical 3-10m you can get from a typical pixel controller to pixel connection.
The 2 types are my "
Null
" which is simply a buffer that works inline with any 3 wire pixel data and gives a fairly typical 10m or so extension of the data. The distance is dependent on the cable, how noisy the environment is and how reliable the 5V or 12V is at the Null. The board will run off 5V or 12V with no jumpers or changes in components required. It has generous sized strain relief and termination holes and it's possible to terminate the wires through the holes or mounted flat onto the pads.
The Null boards are supplied ready to solder to for $AU2.50 with discount for 9+ or 21+.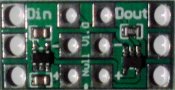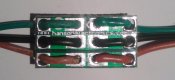 The 2nd board is part of my HE123 range of pixel boards and it can be used with the
HE123-TX
or with the
HE123-4T
. Both of these boards change the incoming standard 281x pixel data to a balanced/differential/long range signal and allow transmission of up to a few hundred metres via Cat5E or Cat6 patch cables. The HE123-TX is a daughter board for the HE123 48 output BBB based pixel board but the HE123-4T can connect up to any source of 281x pixel data and transmit it out the the
HE123-RX
where there are 4 fused outputs.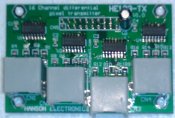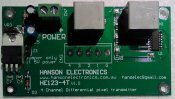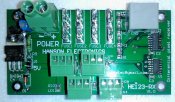 http://www.hansonelectronics.com.au/wp-content/uploads/2017/07/HE123-User-Manual-V1.0.pdf
The HE123 48 output pixel board is awaiting testing once more BBB's come into stock. Once tested they will become available for $AU90 not including a BBB. The motherboard gives you 16 fused WS281x outputs and 2 daughterboard connectors to give you the full 48 channels.