Joined

Oct 3, 2018
Messages

18
Hey gurus,
I've bitten the bullet and started work on a mega tree to replace the poor effort I made in the past. The plan is 180 degrees, 32 strands, 100 pixels/strand, 2" spacing. I have the logic sorted and the hardware side is where I need advice/help. It will be 5m high. I have the top mounting plate from Piptree designs and a custom built topper. These together with the string load seem to weigh a lot so I'm looking to try and overengineer this to be sure it's not going to fail (or at least lower the risk as much as I can). The rear guy wires will anchor to those 2 pillars (thinking around the height of the pergola.
I am looking for help around my:
1. Overall design approach
2. Guy wires
3. Top plate mounting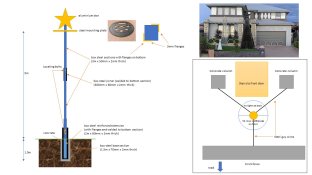 Once settled on the design, I'm also looking for somewhere to help with fabrication. I'm located in The Hills in north west Sydney if you know anywhere.
Thanks in advance for your input.