I didn't get anything like what I'd hoped to up this year. I got a lot more than last year but it always leaves me wanting more. My customers and mother nature need to realise than November is blinky installing month.
Below are some pics of the display at day and night and the 3 types of controller that I'm running.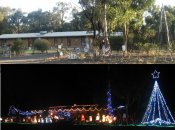 The above pic is a of my house at day and night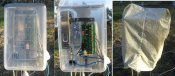 The above pic is of a 350W 24V power supply boxed up with a Ray Wu dmx controller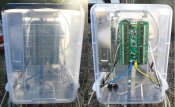 The above pic is of another 350W 24V supply this time with a DC48 dmx controller supplied by AVD (David_AVD)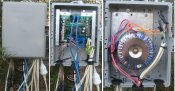 The final pic is of a LOR CTB16PC and the 300W 24VAC toroidal transformer that powers the left channels (1-8)
All 3 of my controller types have a 240V power loop in and out for daisy chaining the power if necessary. They all mount back to a pole which extends to just above the height of the enclosure for the purposes of looping mains cables or power board cables over. Most of the 10 controllers are also covered in a special rainproofing hood which in a previous life was a 8kg or 10kg dry dogfood bag. Because I didn't get the $10 boxes from Masters Hardware that I was after I ended up with some cheap and nasty $7 boxes from Sams Warehouse. These I've got fitted with some
http://www.altronics.com.au/index.asp?area=item&id=P6895
which I thought and are perfect for cable entries into my boxes. They're pretty weatherproof, easy to use and provide a bit of ventilation.
I was a bit of a naughty boy and used left over brown and blue from the mains cable to supply my DC.