Joined

Oct 5, 2010
Messages

547
Location
Decided to give up on waiting to get a scrolling sign and build a light box.
First made a shallow box 600mm x 300 mm and cut some 3mm white perspex to fit. Painted the box and fitted some hooks inside for the cables. We went with White, Red and Green led strings ... cause that's what we have left over.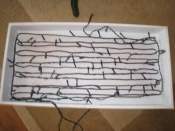 Mother Tuppet has a nice computerised cutter for scrap booking (Bosskut Gazelle) which does a nice job on Vinyl sheet. We only had black so went with that. Tuppet did the artwork layout and then I cut them and mounted them on the perspex.
Turned on and it looks great...as long as I don't have to change the radio frequency!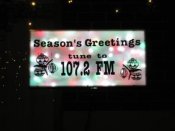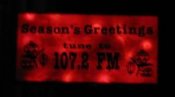 Tried out some music with our transmitter and range is a bit limited so will need to get a larger aerial. People kept stopping and tuning in their radio so light box looks to be effective... tell them what to do and they are keen to give it a try.. and now the challenge of getting our lights synced with the music .. over to you Tuppet.