Joined

Dec 13, 2015
Messages

17
Hi All,
I know this has been asked before, however I can't seem to find a solution,
I am running FPP 7.1 and Xlights 2023.13 on a Mac, and using an Experience Genius controller.
My Mac connects to FPP over WiFi and then using a FPP Proxy to connect to the Controller, everything is accessible from Xlights on the Mac, and I can upload sequences using FPP connect/ configuration using Bulk Controller Upload.
I can not however get output to lights to work.
I am clicking the "Light Bulb Icon"

This triggers a warning on the FPP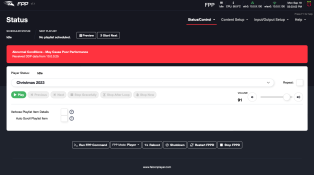 However there is still no output to lights,
I have uploaded this sequence to FPP and played directly and it works this way, however no matter why I try I cannot output to lights direct from Xlights