Joined

Mar 31, 2019
Messages

490
Location
Seems to be a thing that gets brought up from time to time, and recently I've had the urge to do my props to make them look a little bit prettier.
Came across this post from Mat Fallon on the 'Unofficial AusChristmasLighting' fb group, so most of this is thanks to him for letting us know what he's done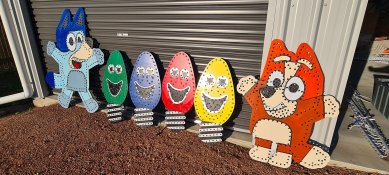 He was good enough to let us know which paint colours and products he used for these.
Rustoleum 2x
Flat Black, Gloss Deep Blue, Gloss Apple Red, Gloss Sun Yellow, Satin Ivory Silk, Metallic Aluminium
Dulux Duramax
Very Terracotta, Gloss Bright Delight, Post Boy, Sky Bus.
Also 'paint pens' come in very handy for the lines on the Bluey characters.
The good thing about these props is that you can be as dodgy as I am with painting them, and they still look pretty good.
Here's my Bluey and Bingo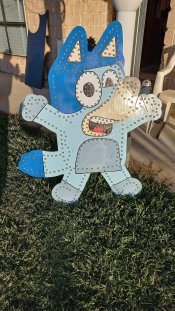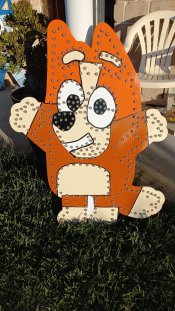 Just got my EFL Teddy from Troy, so working on what colours to paint it. Should be a lot easier with just the brown and whatever colour I end up choosing for the ribbon/bow.
Please add what you've also painted in here, as trying to find anything on facebook is almost impossible !