Joined

Dec 13, 2010
Messages

258
Location
I've read a few threads on different forums that use standard 5/8" packing strapping as a medium to support RGD pixel strings to a Mega Tree. Using this method will allow you to have all the pixels facing in the same direction (outwards) and allow for accurate pixel spacing.
This is only an idea and I have no idea if it's going to work, the problem most people have is finding a way to attach the pixel to the strapping. I also intend to use a different WS2801 pixel (wires exit from opposite ends) and the intention was to attach it using P Series staples, one either end of the pixel, and embedded slightly into the pixels silicon case.
The reason for the question "Will it work?" is just to see if anyone else has had success with this method or have had success with another method, I'm open to suggestions.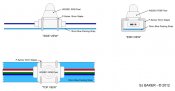 Steve