Joined

Oct 5, 2010
Messages

547
Location
For the Melb Mini will demo a megatree running with some of MPH's pixels strings. Have a half size version under construction for test. Thought you might like to look.
Coolaroo Cross Umbrella base ($20) takes 50mm dia pole and is intended to be weighed down with 4 x 400mm x 400mm concrete pavers (not in the pics). Stand legs fold up nicely to put away.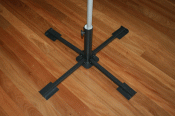 Top is frame from a 300mm dia hanging basket which Tuppet actually needs for another project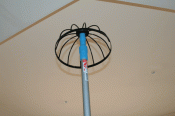 Pole is a 32mm diameter aluminium pool cleaning extension pole ($50). Can extend from 8' to 16'. Surprisingly stiff and will test for general use for our Megatrees this year. Needed to fit a couple of plumbing fitting adaptors to match the pole diameter to the base diameter for $3 each.
Lower ring is made from 16mm aluminium strip.
To check the concept (and because our ceiling is not 16' high) have installed a few pixels strings to show how this can fit together. The strings are doubled over so effective vertical length is 2m. The base ring is 1.3m so for 16 pixel strings (32 vertical sections) would give a spacing of approx 130mm between strings at the bottom. Height of Tree is 8'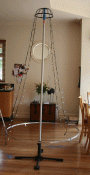 For a real megatree we could use 32 strings without doubling them up. Then would have:
Tree Height 4.66 m
Base diameter 2 m
Space between pixels strings at base 0.2 m
Height of base ring above ground 0.3 m
Probably add a few guy ropes as well as the pavers for stability but very quick to install. Pool pole enables other fittings to clip on the top so thinking to adapt a fitting for a star.[/attach]