Hey all, I am in the process of building a p5 matrix and run into some issues, I'm after any pointers or tips to understand what I am doing wrong.
I have 30 of these P5 Ray Wu panels (
https://www.aliexpress.com/item/32667937844.html
) set up as 6 panels (384 px) wide and 5 panels (160px) high. They are plugged into a single Colorlight 5a-75b card (
https://www.aliexpress.com/item/32867408303.html
). Each port of the colorlight card powers 6 panels (1 row each)
I have loaded the Screen Parameters from the file Ray gave me into LEDVision, and when I do that I can't change the width past 129 or the height above 128. I notice the brightness is set at 50% and the refresh rate is at 1920 with a multiple of 32, which is what I expected to see. The issue is I can't set the cabinet settings to match my setup. See 'IMG_8919-Default.jpg' below: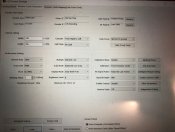 If I try to change the width and height to that of my matrix, I get the following error. Notice the Refresh rate has gone to 0, and interestingly the brightness has gone down to 0 as well. See 'IMG_8920-Default_mychanges.jpg'.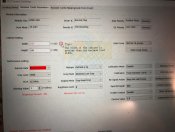 I noticed on the Ray Wu product page for the colorlight card that the card says "Control area of every card: Full color 256x256 Pixels, for special applications the column can be extended to 1024 pixels". So I then unplugged some panels so I had 5 rows of 3 panels (making a 192 x 160 matrix) and this changed the Refresh rate to 960 with a Multiple value of 16. This changed the brightness to 42%. See 'IMG_8921-Half_Matrix.jpg'.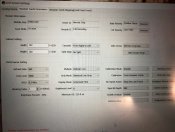 I then changed the setup to be 5 rows of 2 panels (128 x 160 matrix) and this allowed a refresh rate of 1920 with a multiplier of 32, with 50% brightness. This is what I expected to see, though only 2 panels in each row is not what I want. See 'IMG_8923_2x5.jpg'.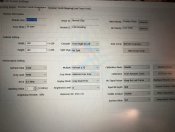 The only way I can get the entire 6 panel (384 px) wide and 5 panels (160px) high matrix to display is if I lower the Refresh Rate & Multiple values in LEDVision... Right down to Refresh rate of 120 and Multiple of "Refresh x 2". This also lowers the brightness down to 30%. See 'IMG_8918-All_Panels.jpg' below:
Does anyone have any suggestions as to how I can change my setup for the 1920 refresh rate with a multiplier of 32 & at least 50% brightness?
Cheers
Dan