Joined

Oct 14, 2016
Messages

7
Location
For the last few years I've been struggling to find an elegant way to mount my LEDs to a round steel pillar. Here are the lights (
video on YouTube
):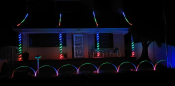 In this image, I've got some webbing on the rear of each pillar. The webbing is cabled tied to the pillar, and each loop of the strip is cable tied to the webbing.
This approach works, but:
Lots of work to cable tie everything
Wind causes the webbing to move about
When the webbing moves about, the strips slip and slide
Has anyone else tackled this issue? I'd like to avoid tape/adhesives on the pillars so I don't damage the paint.
I think the ideal solution would be some kind of thin plastic strip up the back of the pillar, with diagonal slots for the strip to sit in.
Any thoughts would be greatly appreciated! In the meanwhile, I'll be wandering around Bunnings for inspiration