I received a string of 12 RGB Nodes from RightLEDs and an LT-DMX-6803 DMX512 Decoder from LTech today. These are samples I requested. They were shipped DHL Saturday and delivered this (Monday) morning.
I forgot to put my ruler in the picture, but the little decoder is 10.5 cm wide (a little more than 4".) Fortunately two 3-pin XLR connectors were included, and the first thing I did was to make cable adapters for XLR > RJ-45 (in the DLA Wiki thanks to Phil
http://diylightanimation.com/wiki/index.php?title=Enttec_Pro_Connections
)
Then I connected my Lynx Dongle to the DMX IN port and connected the DMX OUT to an Original Lynx I had on the bench. I verified that the decoder passed DMX with no additional connections.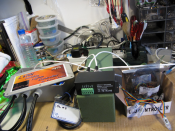 The Nodes themselves (part no. RFK12-1RGBD) are 33mm top to bottom and are encased in a solid silicone cylinder. The "bulb" end also has some silicone sealant around its base, as do the two 4-wire leads at the bottom. The leads are 24AWG ribbon. The specs say that the nodes are "waterproof" with an IP68 rating. (more:
http://en.wikipedia.org/wiki/IP_Code
) I don't think I would want to try a submersion test until I'm ready to potentially waste these samples. Nor would I want to put much of any strain on the leads themselves; they can easily be pulled apart at the bottom of the node.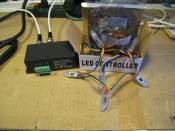 Next I pulled out the Computer PSU I use for MR16's and made a +5VDC/GND connection (easy with Phil's Tiger ATX PSU adapter board) to power the decoder and the nodes. Yes, these nodes are 5VDC. The 4-wire Nodes connect to the decoder as +5 to Red, GND to Blu, Data to Yel, and Clock to Grn.
Then I set the decoder's start channel to 1, easy by flipping a dip switch. Started Vixen, 512ch Test Sequence. Turned on power supply, nodes flashed briefly, then off. Then chose various channels with Test Channel Function from 1-36 (12 Nodes X 3 ch) and verified that the decoder did indeed cascade up the individual Pixel addresses from the start channel of 1 on the first node in the string. Oila!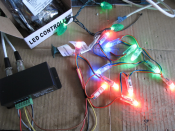 The Nodes are quite bright. There is a half-wave 110V C6 string for comparison in the top of the picture. The viewing angle is high also, probably close to 120deg. They've been on for an hour at least, and don't feel the least bit warm to the touch. Still have to start up LSP and configure the decoder as a controller and do some RGB testing, but it looks very promising.
Some sample 12V RGB pancakes with three 5050's in each module also came in the package, and I'll test them too.
John[/attach]