Joined

Feb 9, 2020
Messages

652
Location
Here is some data I have for WS2811 strings. As previously mentioned, current values are close, not what I consider accurate; values should be within +/- 3 or 4 mA I think. Voltages are essentially 'dead-on' +/- a display count; mW is a calculation. Also as mentioned I am not completely comfortable with these results and intend on retesting. Cheers and Happy New Years everyone.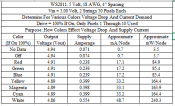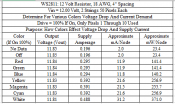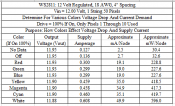 2020Dec30 Edit: The 5 Volt Pixel mW/Node calculation was 'corrected' Value is calculated as: (Vin + Vout)/2 * [mA/Node].
2021Jan18 Edit: Deleted (After all this time) the original 5 Volt png attachment that used/had the calculation error. Apologies to all.
Last edited: