Grandpa Elf
Community project designer
Generous elf
Joined

Jun 12, 2010
Messages

4,640
Location
I needed a variable power supply to use at home when testing various boards, pixels, etc. On
eBay
I found the ATTEN APS3003S bench power supply for $95 delivered. I also saw them for the same price on AliExpress, but I don't recall if postage was free.
I was pleasantly surprised by the overall build quality. The output voltage (measured with a Fluke DMM) was spot on too. The output is adjustable from 0 to almost 33V and the maximum output current is 3 Amps. Here's what it looks like without the cover.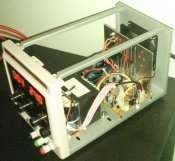 The only negative is the noise from the cooling fan. As I was not drawing much current at all for today's project, I disconnected the fan. I'll probably make up a little PCB to switch the fan on only when the heat sink goes over a certain temperature.
Anyway, I thought I'd present this mini review in case anyone else was looking for a cheap variable power supply for testing strings and general workshop use.