Grandpa Elf
Community project designer
Joined

Jun 12, 2010
Messages

4,559
Location
Last year I attached 8x mini candy canes to a piece of plastic garden mesh and zip tied it to one of my window screens. It was a simple static piece with just a 6V DC power connection.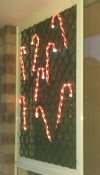 This year, I'll be separating the cane wiring and adding a 8 channel on/off DMX controller (shown below). The input will be P-DMX as the board has a 5V switching regulator on-board. I had the boards in stock and as luck would have it, two of the PCB mounting holes lined up perfectly with the internal inserts in the box!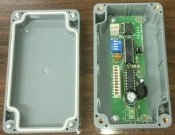 This seems like a better solution than making up an 9 core wiring loom for it to go back to a central DC controller. I bought some more cane sets as "not working" last year, so I'll also make a second element and loop the P-DMX from one to the other.