Joined

Sep 16, 2019
Messages

76
Location
Hi Everyone,
My Mega Tree worked flawlessly this season, stable, strong and reliable, I was really pleased with how it held up. My 3 metre high Mega Tree followed the pattern of alot of others, trampoline base, centre pole, steel topper. I've seen the mini-trees available off-the-shelf, like the Dalek ones, though they don't have the density I want.
I'd like to build some Mini-Trees this season, something like the image below, and I think building it the same way, only smaller to my Mega Tree would be the way to go. First problem I've come across is no one makes toppers this small, and trampoline bases don't come this small either. I thought about 3D printing a topper out of ABS, but these toppers when tensioned with pixels strips have alot of load on them and I'm worried it'd snap.
Does anyone have any suggestions on toppers and base rings, preferably steel, for these sections?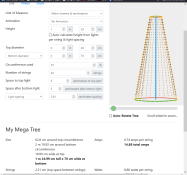 Last edited: