Joined

Jun 17, 2012
Messages

884
Location
I had a few people ask if I could make a how-to for my neon singing faces that I made last year.
I used neon-flex for my faces, 12v. I got the neon from a place in China called ledvision, however I see Ray stocks it now, he didnt back when I made them.
Neon flex is probably a bit heavier than ropelight so shipping isnt too pretty.
I ordered 10m per face. I used my LOR 16-ch DC board for the faces. Each face uses 7 chans.
The things I used to make the faces are:
1. Marine plywood
2. 20m of 12v white Neon-flex, like this except cool white, not warm white (
http://www.aliexpress.com/store/product/LED-Neon-Flex-Light-2-wired-with-single-color-warm-white-LED-Neon-Flexible-Size-13/701799_299282771.html
). There are a couple of diff sizes of neonflex, very glad I didnt get the smaller size. Also mine is 80 led's per metre, I think the above is 120 led's per metre. I certainly wouldnt want anymore than 80, far too bright.
3. PVC plastic channelling, cost me only $2.50 per metre.
4. 4-core Security cable
Here they are attached to the house, we attached them with U-hook stainless steel bends at the 4-corners, I can take a pic of those if requested.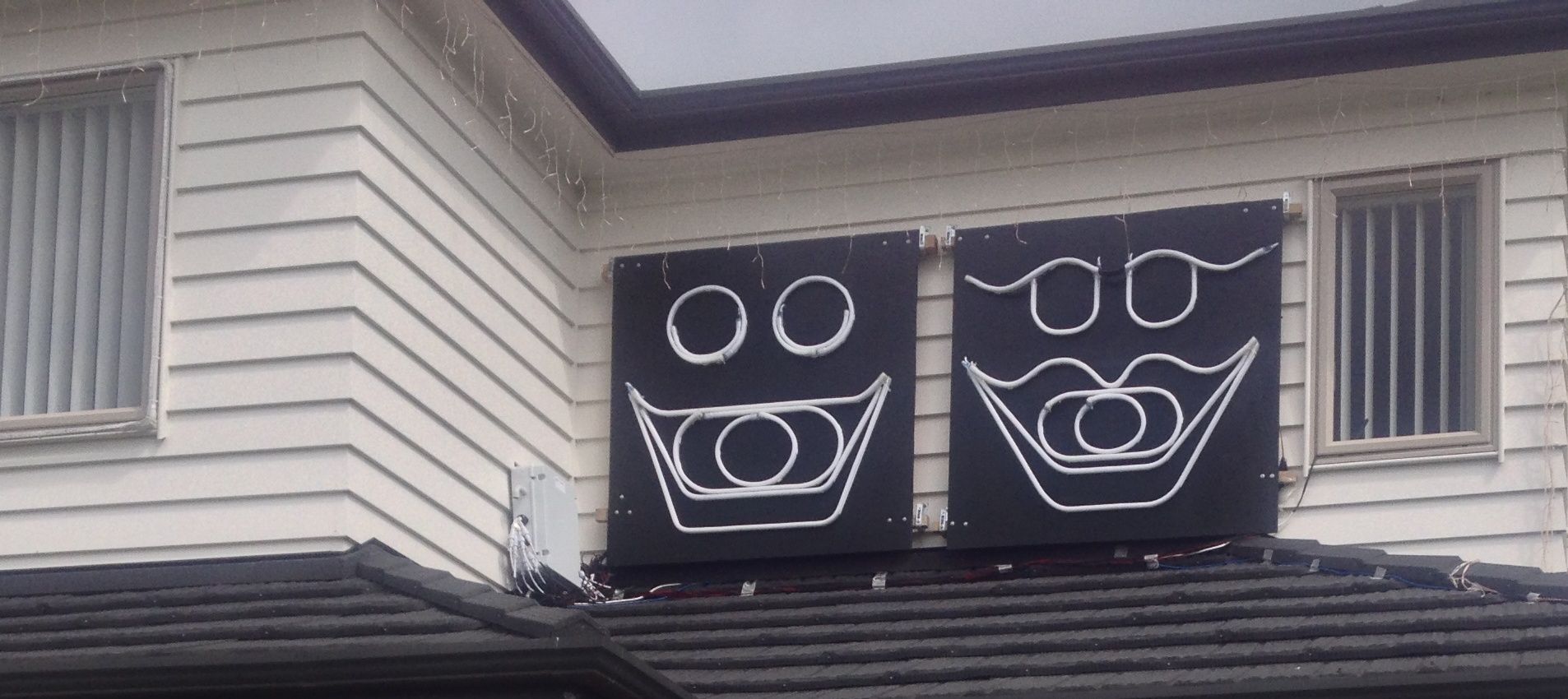 Firstly I painted the marine plywood with black matt chalkboard paint then put a matt sealant/coat over it. Make sure its matt so theres no reflection.
I then drew out my faces, I made my patterns up, especially the "girl" one. Then I cut my channelling. For the straight lines of the faces I made long lengths, for the bends and circles I just cut small pieces of channelling. I then screwed them into the board.
I then cut my neonflex to size but also had to be aware of cutting at the marked arrow (every 5cm). I then had to put the flex ends on and silicon/heatshrink them to seal them.
Where the power cords are I drilled a hole in the marine and threaded the cabling through to the back.
Once I put them on the house and tested them I found that there was too much glare going from the sides of the flex to the other parts of the face, e.g one part of the mouth when on shone on another part of the mouth. So last year I just quickly stuck black electrical tape on all sides of the flex.
This year I have just finished painting the sides instead as the electrical tape came off by end of season, it was a quick fix tho.
I also ran the faces in LOR at 50% intensity, having them at 100% was ridiculously bright lol.